Let's face it. Everyone isn't born to run. Casual and die-hard runners alike are often constantly trying out new training plans and testing new high-intensity workouts in hopes of improving their running performance. Much like everything else in life, running requires optimization.
However, optimizing your running can be a challenge. How should it be done?
Leveling Up Your Running Game
Runners need to constantly iterate to see which training programs, weight lifting schedules and cardio workouts cause a runner to level up. Adjusting to a new training schedule can take time. As with any sport, constant optimizations are needed for athletes to perfect their running form and reach their fullest potential.
Not everyone has the know how or the luxury of a running coach to guide them. That's why the running community and various publications like Runner's World step up to share what has worked and can be implemented to improve your running routine.
By paying closer attention to your running technique and following the guidance from the pros, you can improve speed, stamina and overall health.
Optimization tips are aplenty from successful runners who have already done it all. Improve your form and find your motivation for your next run from some of the most famous distance runners and triathletes around!
5 Running Optimization Tips from the Pros
There are so many things you can do to improve your running. While every tip might not be right for you, we've assembled a list of five secrets from our favorite professional runners. Dive in to learn more about how they train, what they think about and what you can do to improve.
"Be prepared to enter the pain cave." -Courtney Dauwalter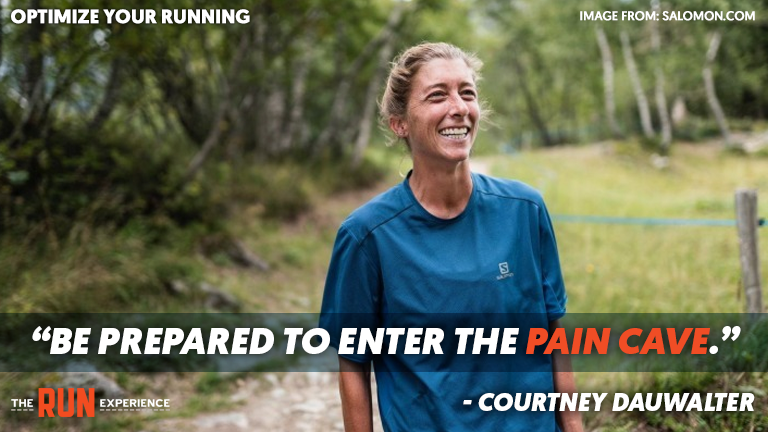 Ultramarathoner Courtney Dauwalter has numerous accolades under her belt. She set the course record at the Javelina Jundred 100K, won the 100-mile Run Rabbit Run, Ultra-Trail du Mont-Blanc and Western States Endurance Run—just to name a few. She was named Ultrarunner of the Year in 2018 by Ultrarunner magazine and is widely respected by the running community for her tenacity, good form and perseverance.
Dauwalter shares advice for fellow runners that are about to embark on any type of run—a warm up, a jog, trail run, half marathon or full marathon. She suggests that you mentally prepare, frame your mind and "be prepared to enter the pain cave." With a mental mindset that is expecting pain, you can prepare yourself to tackle your next run, fartlek or interval workout with determination and grit.
"Keep a short stride on uphills." -Max King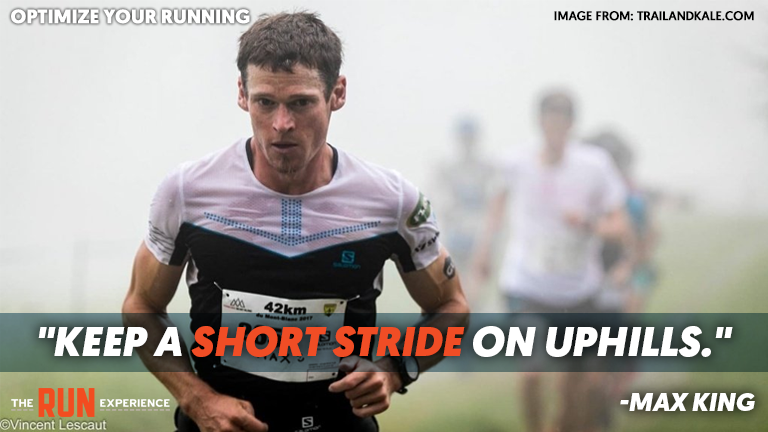 Max King, a well-known American ultramarathoner, has his fair share of first place finishes. He has won the IAU 100 km World Championships and the World Mountain Running Championships, along with a handful of other competitive races.
King recommends more tactical advice regarding stride length to improve your running form and conserve energy. He thinks runners should "keep a short stride on uphills," allowing for runners to attack the hill with more foot strikes. As runners reach the top and begin to head downhill, they can extend their strive and conserve energy as they lean into the decline.
"Distinguish between training and exercising." -Kílian Jornet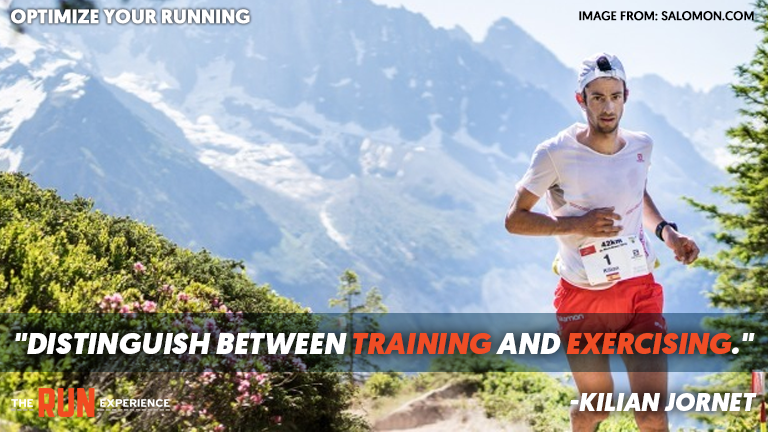 Kílian Jornet, a self-described "lover of mountains," has won the Skyrunner World Series six times and many notable ultramarathons over the years. He views running and competition as "a way to discover landscapes both inside and outside you."
Jornet is a fierce competitor and wants runners to be able to "distinguish between training and exercising." With a training program, you'd lace up your running shoes, get on your running gear, pay attention to your heart rate, map out your targeted pace and set objectives for yourself to hit on your daily run. Training is fierce. It's competitive. And you always have your eyes on race day. Exercising can have that same fierceness, but without the multi-faceted training plan, positioning you to peak right in time for a major event.
"Don't forget to hit the gym." -Shalane Flanagan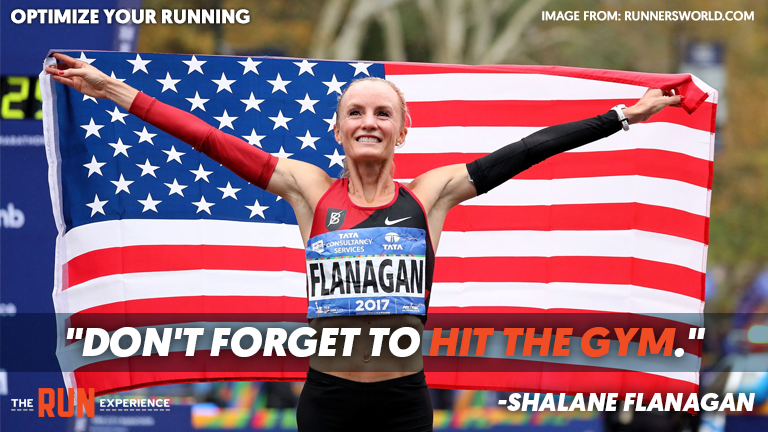 Shalane Flanagan, a distance runner and Olympic medalist, balances cardio workouts with strength training in the gym. She is widely known as the first female to win the New York Marathon since 1977.
Flanagan reminds runners to make sure they build in proper high-intensity weight training into their workout. Her advice, "Don't forget the gym," highlights the importance of having a balanced training plan that focuses on mileage, but conditioning and strength training as well.
Runners should pay attention to their bodies to ensure they aren't overworking, too. If strains or pains persist, runners should seek the help of physical therapists or add more rest days into their training plan.
"Think about those less fortunate than you." -Meb Keflezighi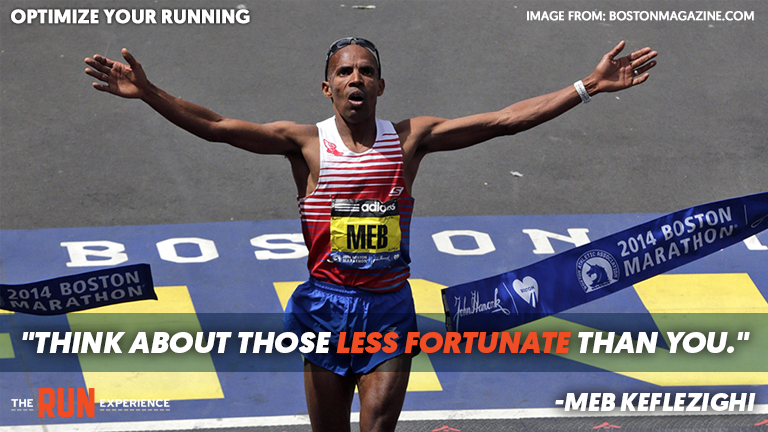 Meb Keflezighi is the 2004 Olympic silver medalist and fourth place finisher in the 2012 Olympics for the marathon. In addition, he's had notable first-place finishes in the New York Marathon and Boston Marathon, making him the first man to win both since 1983.
Despite all these accolades, one of Keflezighi's secrets doesn't focus on a technical improvement to your form or a way you can shave a few seconds off of your PR. Instead, it is an adage he reminds himself to propel him forward and keep a healthy mental state during his runs. "Think about those less fortunate than you," is the mantra that he reflects on during his runs. There are so many people who can't run. Appreciate your ability and the places your body will take you. Running is a gift, and you get to experience it.
Secrets to Spur You Forward
Every runner has a desire to get faster, better and stronger. In order to do so, they have to stick to their training plans, master their workouts and continuously strive to perfect their running performance.
These secrets from the pros can guide runners closer to their goals. By internalizing them, runners will have additional guidance and motivation when they are preparing to take their first step and begin their next run!