The coronavirus pandemic has disrupted lives in so many ways. As the lockdown was put in place in individual states and social distancing measures became the norm, a number of people took on new hobbies in an attempt to stay healthy and sane during this time. 
Let's Talk About Running During Covid-19
Many people started running for the first time as a way to improve their physical health and enjoy the fresh air while interacting with others from a safe distance in public settings. New runners all across the United States—from Washington D.C. to New York City—laced up a pair of shoes and started training.
But just how many new runners are there compared to last week or last year? And with the half marathons and road races paused for the immediate future, are people really committing to training plans amidst Covid-19?
Let's get into the data.
Are More People Running During the Pandemic?
ASICS conducted a massive 14,000 person study to analyze how running habits have changed during the pandemic. The world is fighting a pandemic, and people are learning to adjust their lives in a variety of ways while introducing a few more precautions than usual. 
In their research, ASICS concluded:
36% of runners are more active compared to life before the lockdown

79% of runners believe running makes them feel more in control during this time

65% of runners believe the mental benefits currently outweigh the physical benefits

73% of runners want to maintain their training schedule after the pandemic ends
This is great news for the running community! This is a unique time in everyone's lives, and running can be an activity that provides stress relief during this time of uncertainty and social distancing.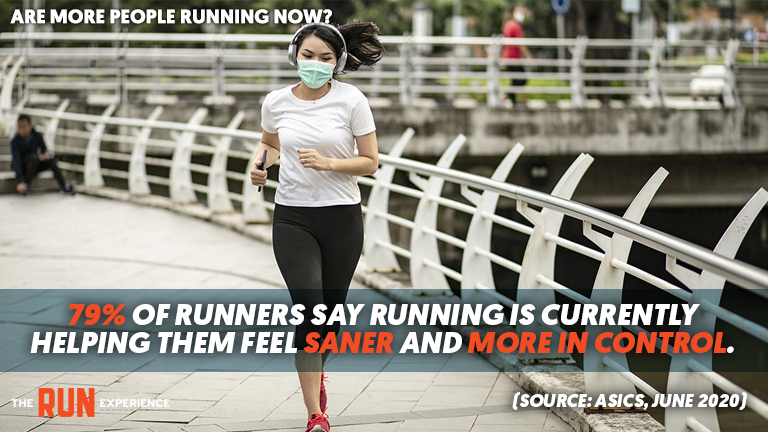 For those just starting to run, make sure you are doing it in a way that is safe for yourself and those around you. There are so many different recommendations in place from the Centers for Disease Control and Prevention (CDC) regarding outdoor exercise, cloth face coverings, social distancing guidelines and more. 
In addition, you don't want to train too hard right away and over-exert yourself. That's why we put together a few tips, videos, and advice to get you started on the right foot.
Getting Started: Running Your First Mile
If you're just joining the running community, let me be the first to give you an emphatic, "Welcome!" Joggers and runners of all skill levels can get so much out of simply going the distance during this uncertain time—whether it's outside or on their treadmill. 
To get started, watch the video below for insight into how to tackle your first mile. After following the 4-week progression plan, you'll be able to add additional mileage while increasing your stamina and speed.
5 Running Tips for Beginners
New runners hitting the trails during the pandemic should make sure they are training with the best guidance and proper instruction. Integrate the tips below into your training to ensure that you are keeping yourself healthy as you run.
1. Socially-distance yourself from others.
We'd be remiss if we didn't start with mentioning this as the first tip. The best way to stay safe during your run is to maintain a safe, socially-distance area from the runner next to you. This is true during the current pandemic but also in general. Runners need space to stretch, expand their stride and speed up/slow down as required. A lot of these changes need to happen in a split second. 
By leaving some room between you and the next runner, you can adjust your course quickly, navigating around people and obstacles without getting in the way of others.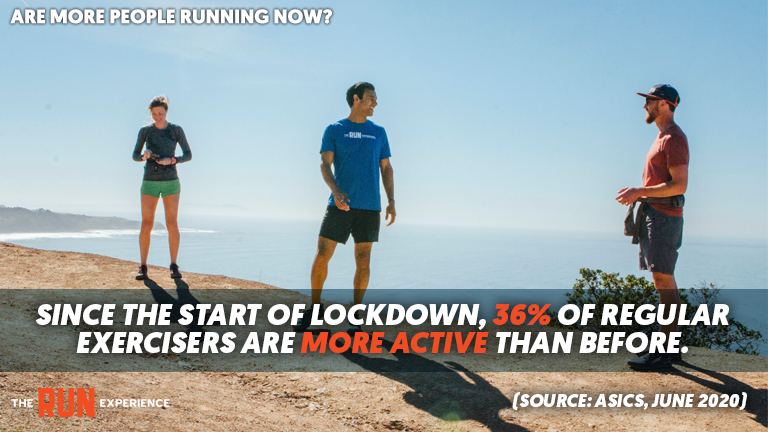 2. Find your right pace.
Assessing your pace is an important process that every runner—young and old—should take time to figure out. To know what pace is right for you, you need to check the rate of your perceived effort (RPE). There are a handful of tests (like the nose and talk test) that can try during your next run to understand if you're going too slow or fast. 
By running at the right pace, you'll optimize your run, exert the right amount of energy and begin building stamina for longer distances. 
3. Don't ignore pain.
Whether you feel something off in your knee or the heel, you need to listen to your body. Rest and ice alone won't always fix it. Do accessory strength and mobility work. For example, if your ankles are hurting, consider doing ankle pumps or rolls to bolster those muscles prior to your next run. If pain persists, take a few days off your run to assess and check with your doctor.
Ignoring pain is often a detrimental choice that runners can make. Your pain might be a symptom for a major problem, so it is best to get it checked out right away.
4. Approach your running schedule with flexibility.
Most runners following a training plan to determine their workouts and runs for the week. While we recommend keeping a running log, it's important to remember that your schedule doesn't have to be set in stone. Things come up. Plans change. Weather throw you a wildcard. Your body may not be ready.  It's okay to change up workouts. Don't be too hard on yourself.
New runners will often follow plans rigidly with no variation. However, with most running events canceling (or at least changing to virtual races), this is the time when you need to be flexible with your training goals. Adapt and adjust as you plan your week's workouts as needed.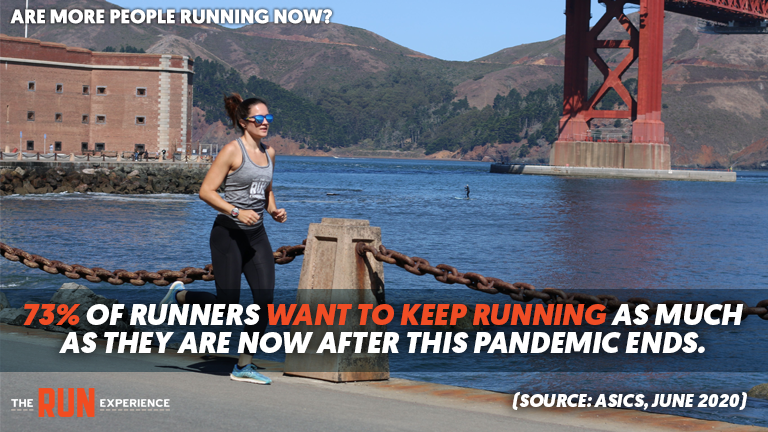 5. Hydrate before and after your run.
We're not going to lecture you on the importance of drinking water after you run. (Hopefully, you know this by now.) But did you know that you should even hydrate before? Plan how you will replenish the fluids that you lost. 
In warmer times throughout the year, consider bringing water to drink before your workout (as well as after) or build a system of rehydrating with a water pack you can wear.
Welcome to the Running Community
New runners—we're glad to have you! You've joined a community of doers that wake up in the early morning or head out late at night to do what others merely talk about achieving. The running community is resilient, motivated, and with you every step of the way.
Download The Run Experience app to elevate your training experience to the next level. It's like a miniature running coach that you can keep in your pocket. Within the app, you'll find training programs, audio and video workouts, a GPS run tracker, community and coaching help.
With all these resources at hand, you'll be a seasoned runner in a flash. It's time to close the laptop and put the phone to sleep. Lace up, start stretching and get on your way. The miles await. We'll see you out there!