Your first 5K was just a teaser—it gave you an appetite to run faster and longer. When you catch the running bug, generic training advice won't work anymore. You need an advanced 5K training plan that's more about speed and performance rather than showing up and finishing.
Let's say you ran your first 5k and instantly got hooked on this awesome sport. You have a few races under your belt and now you're focused on stepping up your game to run faster and longer.
In this article, we'll give you our most advanced 5K training plan workout tips for improving your performance at the next big race.
Advanced 5K Training Plan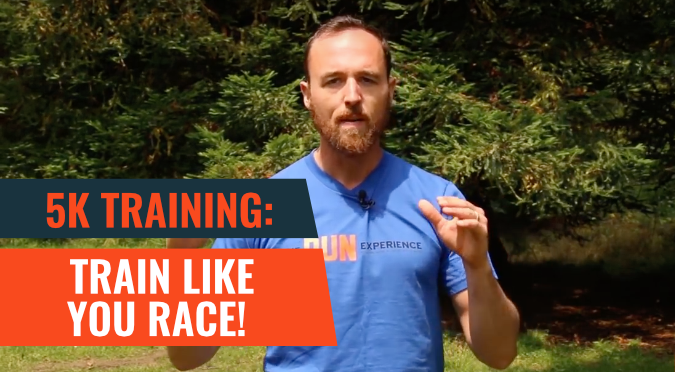 The 5K distance could be considered one of the most challenging race lengths out there. It's too long to be considered a sprint and too short to be tackled long and slow, like the marathon, so a 5k training schedule needs to incorporate speed and endurance. 
A 5k is short enough to race consistently, making it fun and interesting to chase down a new goal. Plus, there's no shortage of 5k races to participate in–you could compete in one every weekend if you want to. Besides, can you think of a better way to spring into the weekend than with the endorphin high of a great race?
Advanced 5k training involves intense stamina and speed. That means you need to learn how to hold your desired 5k race pace for during your training sessions. The key here is to learn how to endure the intensity of holding that pace–before you get to the start line.
Ready to start training? To begin, let's dive into this advanced 5k training workout.
The Advanced 5k Training Workout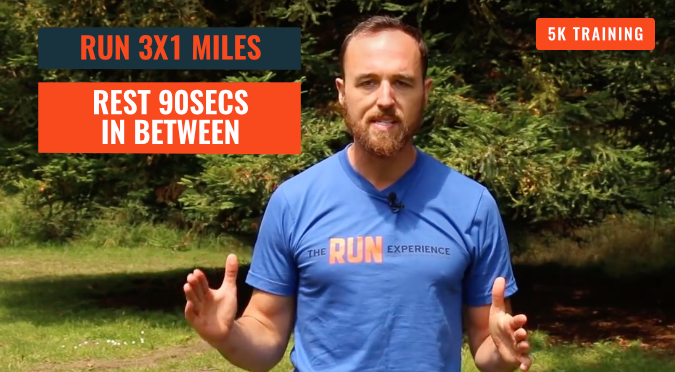 After your warm up at an easy pace, you're going to do three one-mile runs, and you'll rest for 90 seconds between each round.
However, it's not quite that simple–there's a bit more to it. This speed workout will get your heart rate up–but will be satisfying and most importantly–effective! 
You need to measure out the 400-meter sections of your one-mile course. To make it easy, you can always make it a track workout. You'll be adjusting both your speed and cadence (how many times your foot hits the ground per minute) as you go.
This advanced 5K training workout will be focused on holding (and at times pushing beyond) your desired race pace.
Here's the breakdown for how fast you're going to run each mile:
For the first 400 meters: Run three to four seconds faster than your 5K race pace
During the middle 800 meters: You'll run right at your desired 5K race pace
For the final 400 meters: You'll run three to four seconds faster than your 5K race pace
Finish up with a 10-minute cool down jog and some light stretching.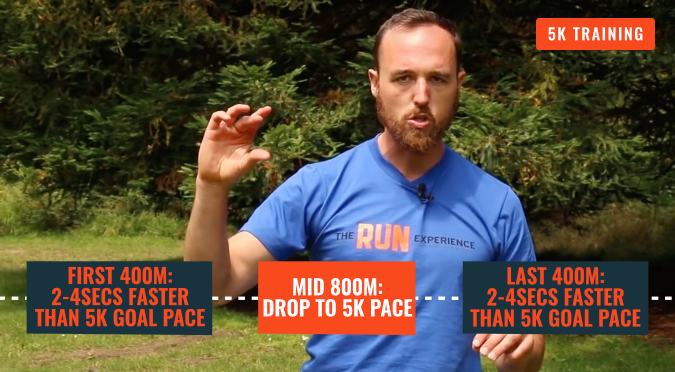 Learning How to Adjust Your Speed on Command
This is where cadence comes in. It can vary, but the average runner will generally hold a cadence of about 90 steps per foot per minute. This can be tracked using any sort of pedometer or this mobile app for your phone.

Follow this breakdown for how you're going to adjust your CADENCE for each mile:
For the first 400 meters: Increase your cadence by three to five steps–93-95 steps per foot per minute
During the middle 800 meters: Settle into your 5K race cadence– roughly 90 steps per foot per minute
For the last 400 meters: Increase your cadence by three to five steps–93-95 steps per foot per minute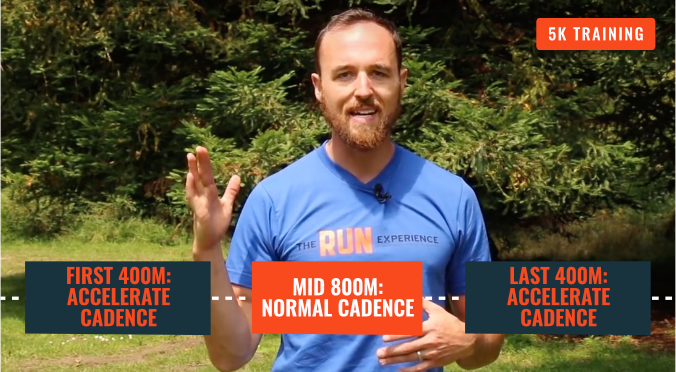 By breaking up your miles into smaller splits, you'll be able to take control of that 5K race pace. We can't lie…this won't necessarily be fun, but it will be very productive. This workout trains your body to effectively start strong, settle into your race pace, and finish strong!
Pro training tip: Incorporate easy runs, rest days, or cross-training on the days in between your harder workouts like tempo runs and interval runs.
Adjust This Workout for Any Runner
If 90 seconds of rest simply isn't enough, take a little more time to recover. Two minutes, or even up to three minutes is fine. Take what you need so that every mile counts. It will get easier each time–we promise!
That being said, this workout is only as effective as the quality of the effort put into it. Adjust as needed, but push yourself a little farther and decrease your rest period each time if you start out with less than 90 seconds rest. That way, when race day comes, your body will be primed to hold your race pace for a longer amount of time.
For example, if you start out taking three minutes of rest between each mile–push it further each time you do this workout. On the second week, bring your rest down to two and a half minutes. The week after, reduce it to two minutes. Your body will adapt to each week as your training progresses and you'll be primed to crush your personal record because you've trained with purpose.
Graduate from Novice Runner to Advanced Racer
Work on incorporating this advanced 5K training workout two to three times before your next race and don't forget to include them in your 5k training plan. You should notice a significant difference. Good luck, runners!
Have you discovered the super-popular and powerful range of various running training programs by The Run Experience? Check them out to get the best out of your daily workouts and pave the way to becoming an advanced, elite runner!