Couch to 5k… it sounds like the perfect goal. And it certainly can be! A 5k race is an awesome and tangible goal for new runners. Unlike a marathon or half-marathon, it requires significantly less training—meaning less risk of injury for beginner runners.
But there are so many "Couch to 5k" programs out there… how do you choose? Every couch to 5k running plan has different elements you'll need to consider. Here are the top factors you'll want to evaluate:
What's a couch to 5k training program look like?
Does a couch to 5k training schedule align with your goals?
Is the couch to 5k running plan for beginners?
Should you do a couch to 5k training plan in 4 weeks?
Which couch to 5k running plan is the most legit?
Below, we'll answer all of these questions and more. Plus, we'll provide our 4 best tips for rounding out your couch to 5k running plan.
What Is a Couch to 5K Running Plan?
Couch to 5K Running Plans, often abbreviated as C25K, embody a collective approach to introducing running to beginners in a structured, gradual, and supportive manner. The general principles of gradual progression, balanced training, and supportive community underpinning these plans have made them a popular choice for those embarking on their running journey.
Here's what they tend to include:
A Gradual Transition to Running
Inclusive Approach: C25K plans are crafted to welcome individuals, particularly beginners, and encourage them to transition from minimal activity to running a 5K.
Balanced Progression: They emphasize a balanced progression that intersperses periods of running with walking, gradually increasing the running intervals over time.
A Typical 9-Week Journey
Duration: While variations exist, a common format is a 9-week plan, making it a manageable and short-term commitment for beginners.
Frequency: Most plans involve three workout sessions per week, ensuring ample rest and recovery.
Blending Running and Walking
Interval Training: The plans utilize interval training, alternating between running and walking, to gradually build endurance and minimize the risk of injury.
Incremental Increases: Each week, the running intervals typically increase while the walking intervals decrease.
Accessibility and Flexibility
Versatility: C25K plans are versatile, with numerous versions available online, in apps, and through various fitness organizations.
Adaptability: They can often be modified or adjusted to cater to individual needs, preferences, and progress.
Preparing for a 5K Race
Event Preparation: Many individuals utilize C25K plans to prepare for a specific 5K event, providing a tangible goal and a celebratory milestone.
Foundation Building: Successfully completing a C25K plan often lays the foundation for further running adventures and fitness pursuits.
How Will a Couch to 5K Running Program Help You?
A couch to 5K running program helps you smartly enter the sport. Anyone can complete a 5K, but that's not the end goal—you might want to compete in multiple 5Ks, improve your finish time, scale to longer races, or just enjoy regular running. With these end goals in mind, you need to approach your training more strategically.
Here are a handful of ways a couch to 5K running program can give you a leg up:
Enhanced Physical Fitness: Gradually build cardiovascular endurance, muscle strength, and aid in weight management through consistent running and walking intervals.
Boosted Mental and Emotional Well-being: Experience stress relief, improved mood, and elevated confidence by achieving milestones and engaging in regular physical activity.
Establishment of Healthy Habits: Develop a regular exercise routine and potentially inspire additional healthy lifestyle choices, while also learning to prevent injuries through gradual progression.
Social and Community Engagement: Connect with a supportive community, share experiences, and expand your social network through group runs, forums, and events.
Tangible Achievement and Motivation: Work towards the clear goal of completing a 5K, fueling motivation through weekly milestones and providing a foundation for future fitness endeavors.
Accessible and Adaptable Fitness Journey: Enjoy a flexible and adaptable program that requires minimal equipment, offers various participation methods, and can be tailored to individual needs and schedules.
Couch to 5k Running Plan Factors to Consider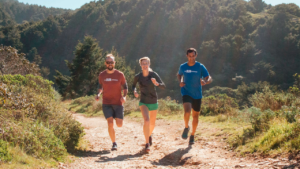 What's a couch to 5k training program look like?
Couch to 5k training programs usually include the running, cross-training, and rest-day schedule you'll need to go from 0 to 3.1 miles in a designated period of time.
These training programs typically outline the aerobic runs and speed workouts you'll need to build your endurance and fine-tune your pace. Couch to 5k training programs start slow (very slow) to avoid causing injury to dormant muscles.
From the get-go, you'll be focusing a lot on proper warm-ups and cooldowns. These are critical to getting to the finish line race after race—so don't skip over the basics.
Does a couch to 5k training schedule align with your goals?
Couch to 5k programs aren't for everyone. You'll need to make sure the couch to 5k training schedule you choose aligns with your goals and fitness.
If you're a mountain biker or rock climber with high base fitness levels looking to finish a 5k, your training schedule will likely be more accelerated than someone who's coming back from a long injury or who's never run before.
Don't just choose any ol' 5k training plan—make sure it works for you and your goals.
Is the couch to 5k training plan for beginners?
Couch to 5k training plans are mostly intended for beginners, but some are intended to help recovering athletes ease back into races. Study more about a plan before you dive in to make sure it fits your needs and unique situation.
Should you do a couch to 5k training plan in 4 weeks
Couch to 5k training plans in 4 weeks aren't the end-all-be-all of running programs. Longer is usually better, especially when it comes to building base fitness and staying injury-free.
Sure, you can do a couch to 5k training plan in 4 weeks and perform just fine in your first 5k—but if you plan to have any longevity in the sport, then you'll want to take a more long-term, holistic approach.
Which couch to 5k running plans is the most legit?
Anyone can create a couch to 5k running plan—but you don't want just any plan. You want a plan that's tried-and-true—a plan that's been tested by beginner and elite athletes alike.
Fortunately, that's what we provide for you at The Run Experience. Download our mobile app to see all the training plans available. These podcast-like audio training lessons have been built by runners for runners, so rest assured you're getting a master-made couch to 5k running plan.
Get up and training (the right way) in less than five minutes!
Sample Couch to 5K Training Schedule
These programs have ranging couch to 5K training schedules that could be anywhere from 4 to 12 weeks long. Below is a sample schedule that blends running and walking to gradually build your endurance while minimizing the risk of injury.
This is not a plan to help you break your personal best—this is a plan to get you from your couch to the end of the 5K without any injuries.
Week 1
Workout: 60 seconds of running, 90 seconds of walking, repeated for 20 minutes.
Frequency: 3 times per week.
Week 2
Workout: 90 seconds of running, 2 minutes of walking, repeated for 20 minutes.
Frequency: 3 times per week.
Week 3
Workout: [Run 90s, Walk 90s, Run 3m, Walk 3m] x2.
Frequency: 3 times per week.
Week 4
Workout: [Run 3m, Walk 90s, Run 5m, Walk 2.5m, Run 3m, Walk 90s, Run 5m].
Frequency: 3 times per week.
Week 5
Day 1: [Run 5m, Walk 3m, Run 5m].
Day 2: [Run 8m, Walk 5m, Run 8m].
Day 3: Run 20m with no walking.
Frequency: 3 times per week.
Week 6
Day 1: [Run 5m, Walk 3m, Run 8m, Walk 3m, Run 5m].
Day 2: [Run 10m, Walk 3m, Run 10m].
Day 3: Run 22m with no walking.
Frequency: 3 times per week.
Week 7
Workout: Run 25 minutes.
Frequency: 3 times per week.
Week 8
Workout: Run 28 minutes.
Frequency: 3 times per week.
Week 9
Workout: Run 30 minutes.
Frequency: 3 times per week.
Additional Notes to Keep in Mind
Always prioritize listening to your body, and consider consulting with a healthcare professional if you have any health concerns or experience persistent pain during the program.
Rest Days: Ensure you have at least one rest day between each workout to facilitate recovery.
Pacing: Maintain a comfortable pace where you can hold a conversation during running intervals.
Flexibility: Feel free to repeat a week if you find the progression too challenging, and ensure you listen to your body.
Couch to 5k Training Plan: 4 Best Tips
Below, we've got 4 tips to keep in mind as you choose your Couch to 5k Program.
Tip #1: Don't Rely on a PDF to Get You Off the Couch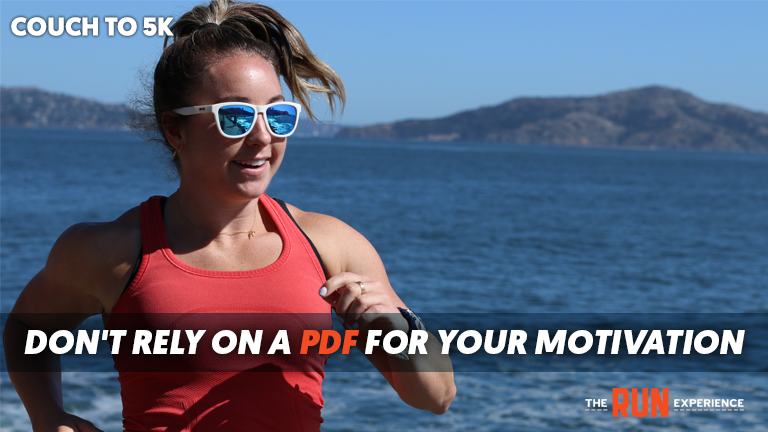 First thing's first, know yourself and your motivation levels. For most new runners, it's tough to commit to a training schedule long-term. After that first or second week high wears off, it will be tough to push through the soreness and keep up with your training.
With that in mind, remember that a PDF of your training plan isn't going to do the trick. While a training program spelled out in a PDF or in an e-book is simple and digestible, it's not going to motivate you on the tough days.
To combat this, consider finding a training plan that includes videos, motivational tips, and community. Videos will allow you to feel more connected to your 5k coach, which can help hold you accountable.
And if your training program has a community element, all the better. A running community, whether in person or online, is a perfect way to hold yourself accountable. When you tell someone about your training plan for a given day, you're more likely to follow through, even when you feel like being a couch potato. Try to find a program that has some sort of community that you can share your goals and progress with.
Running communities come with a host of benefits beyond accountability. You can share playlists, injury-prevention tips, warm up hacks, and so much more. Some of my favorite running songs have come from members of online running communities I'm a part of!
Tip #2: Tell People About Your Goals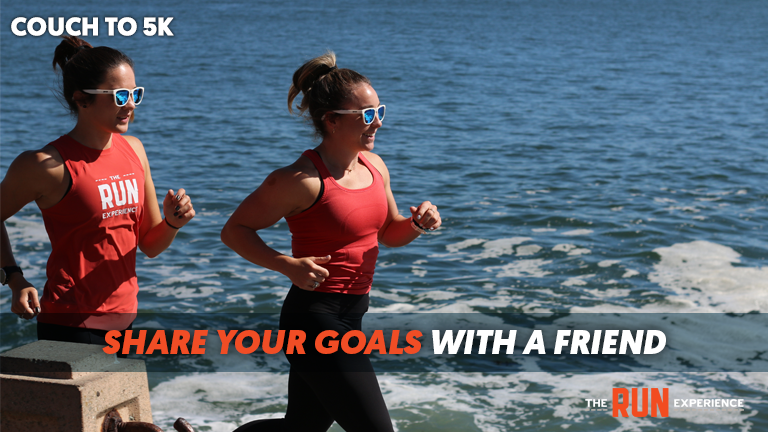 A logical next step to the last tip, tell people about your goals. Accountability is going to be the most important ingredient in your couch to 5k recipe. It's the only way you will actually stick to your plan and cross that finish line.
So, tell people about your goals. As described above, if your training plan has a community element you feel comfortable using, great – share your goals there. If not, just tell a friend or family member! Aim to let at least one person know your day's training plan every day. Even if it's a rest day, let someone know that you are resting that day, and share with them any recovery activities you plan to do (i.e. foam rolling, stretching, etc.).
What separates 5k finishers from those who started and quit a training plan is simple: one group stuck with their training and the other didn't. Don't let yourself fall into the second category. Tell at least one person about every workout you have planned, from your first workout to your race-day routine.
For some people, telling a friend or family member, someone they are comfortable with, is preferred. For others, they like to keep their running training individual, and would rather share their training plan with a like-minded running community.
And to be honest, it does not matter who you share your goals and daily training with, just tell someone.
Tip #3: Document Your Progress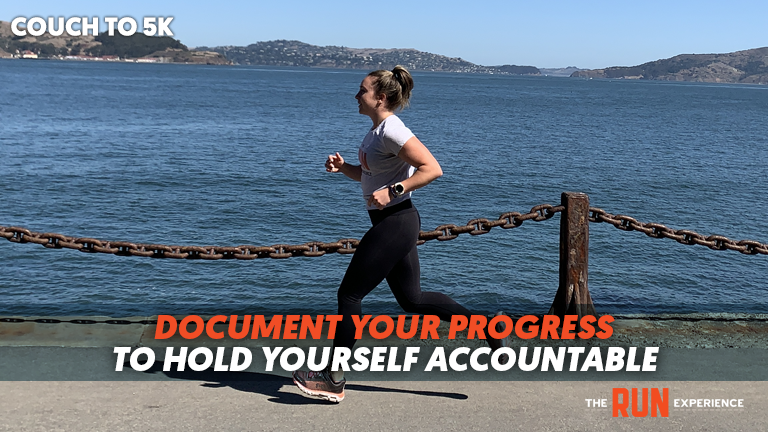 As you choose a  5k plan, look for plans that show tangible progress. Maybe what was a minute walk the first week is a minute jog the third week. This goes hand-in-hand with Tip #1, because often times just a one-sheet PDF will not allow you the tangible progress you need to stay motivated.
Be sure your 5k plan is living and breathing, adapting with you as you grow more capable. For example, your minutes of walking are going to decrease after your first time run, and that's an exciting progression. Be sure your plan spells out just how much you're improving.
And even if it does not explicitly point out your progress for you, you can still document your own progress to stay motivated. Write down how many minutes you needed to walk during your first training session, and watch that number decrease. If you're training on a treadmill, write down your highest speed or incline during your first week, and watch that number increase.
Your running experience is going to be largely mental, so stay positive by staying motivated. And one of the easiest ways to stay motivated mid-training is to see how far you've come since you were a new runner.
Tip #4: Build Your Training Gradually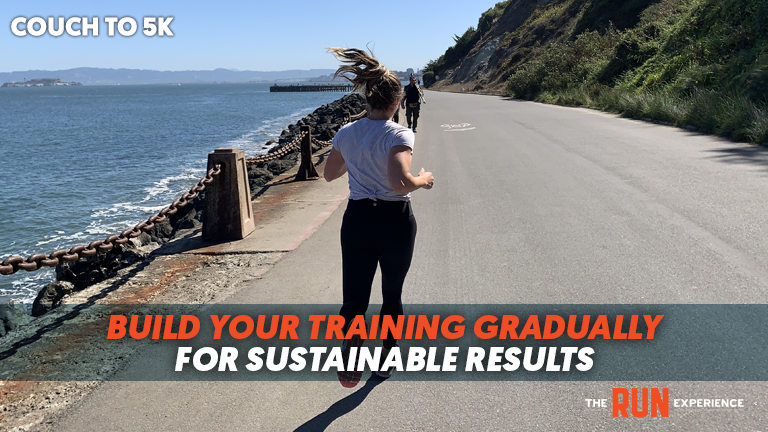 Last but certainly not least, build your training gradually. This goes for running, strength training, all of it. While your motivation might be at its peak when you get started, resist the urge to do too much too fast.
As a newbie, your sights need to be set on the finish line, which isn't exactly tomorrow if you're just getting started. Be wary of training programs that show major progress early on, with big jumps in mileage. Training too hard off the bat can quickly lead to injury. And even if it doesn't the mental burnout alone can be enough to sideline you before race day.
You certainly want to be gassed after a good training session, but remember that you should want to stick to your plan the next day. Doing too much too soon will have you wanting to quit. So, when you look at your training plan, you should not see too much change from one day to the next.
Find a Couch to 5k Training Plan
Find a couch to 5k running plan that allows you to trust the process. With gradual improvements, all you have to do is show up and complete each day's plan, and you should never feel overly sore, injured, or burnt out. You just stick with what your 5k plan has for you, and before you know it you're crossing the finish line!
Take time to find the right couch to 5k training program for you. Be picky! If a couch to 5k training schedule feels too fast or too slow for you, switch before you get too invested.
Check out all the couch to 5k running plans we have over on The Run Experience App. Download the app for free here.