Not sure which is the best running program to follow? There are plenty of running training plans out there, but the best one is the one that you'll actually follow.
Whether you're a seasoned running pro or a beginner runner lacing up your running shoes for the first time, adopting a training program is certainly the key to success. But, with so many running programs out there, how do you choose what's best for you and your goals? We're here to help you explore training plans to help you become a stronger, more confident runner.
How to Choose the Best Running Program
Before you choose a running plan, decide what you want to get out of running. What are your goals? It can be helpful to list them out on paper. For example, do you want to lose weight? Run your first 5K race? Get a half marathon under your best? Improve your health? This will help you frame what kind of running plan you want to pick–or if you want to design one for yourself.
1. Define Your Running Goals
Distance: Determine whether you aim to run a 5K, 10K, half-marathon, marathon, or another distance.
Performance: Decide if your focus is on improving speed, endurance, or achieving a personal best.
Fitness or Enjoyment: Understand if your aim is general fitness, weight loss, or running for leisure.
2. Assess Your Current Fitness Level
Baseline Fitness: Identify your current endurance, speed, and weekly mileage.
Strength and Flexibility: Evaluate the strength of your key running muscles and your flexibility.
Health Check: Ensure you're medically cleared to engage in a new running program.
3. Program Structure and Design
Schedule: Look for a program with a training schedule that fits into your lifestyle.
Progression: Ensure the program gradually increases intensity and volume to avoid injury.
Variety: Choose a program that incorporates varied workouts – intervals, long runs, easy days, and rest.
4. Incorporate Rest and Recovery
Rest Days: Ensure the program includes adequate rest days for muscle recovery.
Cross-Training: Look for the inclusion of cross-training days to avoid overuse injuries and enhance overall fitness.
5. Coaching and Support
Coaching Style: Determine if you prefer a self-guided program, virtual coaching, or in-person coaching.
Community: Consider if you'd like to be part of a running group or community for support and motivation.
6. Flexibility and Adjustability
Adaptability: Check that the program can be adapted to suit your changing needs and unforeseen interruptions.
Feedback and Adjustments: Ensure there's a mechanism for feedback and making necessary adjustments to your program.
7. Technique and Form Training
Running Form: Select a program that places emphasis on developing proper running technique.
Skill Development: Ensure it encompasses skill-training sessions for improved efficiency.
8. Feedback and Progress Tracking
Tracking: Ensure the program allows for or provides a method to track your progress.
Analysis: Look for regular check-ins or assessments to analyze your progression and areas needing focus.
9. Accessibility and Cost
Affordability: Choose a program that fits within your budget.
Accessibility: Ensure the program's resources and requirements are accessible and manageable for you.
Elements of the Best Running Plans
Ok, so you've decided what your goals are and you're ready to select a running plan. There's no shortage of training programs out there–but the best ones have several key components no matter if you're focused on weight loss or hitting a new personal record. Here are the top things to look for in a running program:
Warm-Ups and Cool-Downs
There's not a single running program out there that doesn't help warm your muscles up at the beginning of a run and cool everything down at the end to help prevent injuries. Check out our videos on proper warm-ups and cool-downs, too!
Mileage Increase
No more than a 10-15% mileage increase per week. If you're training for a longer race, you'll want to increase your mileage every week. However, do it slowly to help decrease your risk of injury and burnout. Training is a marathon, not a sprint!
Workouts
Your running week plan should include speed work,  one longer run, and recovery days. A good plan will also include strength training workouts to keep your muscles strong, improve your running form, and aid in injury prevention.
Recovery days
Running non-stop seven days a week is a lot of impact on your body. A good running program is infused with a rest day or two, some easy pace runs, and/or some cross-training such as the elliptical, biking, or swimming.
Nutrition Information
Look at nearly every running log and journal and there's a place to record your nutrition for that day and your weight. A robust running program will include nutrition plans or tips to help you fuel your body right for every run along the way.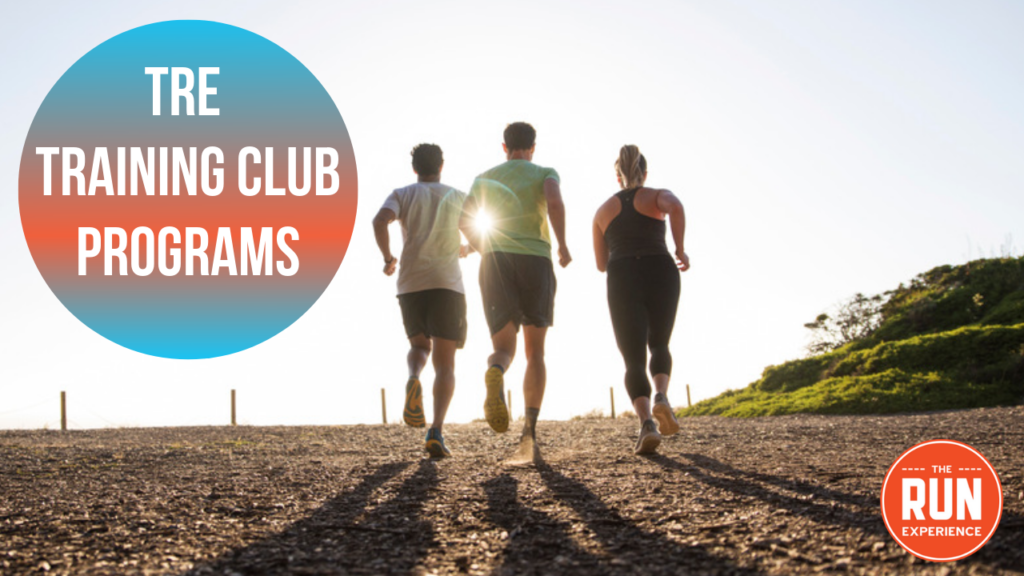 There are a ton of running plans out there, and many experienced runners like to plan their own. No matter what you choose, we are dedicated to providing the resources, advice, and coaching that fosters and grows your love of running.
At The Run Experience, we are proud to have first-class coaches who have crafted effective training plans for a variety of runners, of all experience levels. All our running training programs include daily workouts and videos on run, strength, injury prevention, and nutrition–plus coaching support! Let's dive in and learn a little more.
TRE Beginner Running Plan
If you have not had any coaching before or are a beginner runner, start with our beginner running program. Starting a training plan for any new runner can seem daunting, but we'll have you stronger, faster and ready to enter a 5K race in 30 days.
You'll not only get fitter, but you'll also learn how to run more gracefully and without risking injury. This program includes:
A 30-day program with 30 – 45-minute workouts
Three runs per week with one optional additional run
Weekly strength and core workouts
Daily injury prevention
Plus, no gym or equipment is needed
TRE 30-Day Challenge Running Program
The 30 Day Challenge is our flagship program that's suitable for runners of all levels. It includes 30 days of training that will transform your running through daily workouts that include strength, mobility, running form and speed.
Whether you're a brand new runner or an experienced veteran, you will finish as a different runner than when you started. This program includes:
Three runs per week, with one optional additional run
Weekly strength and cross-training workouts
Daily mobility  and injury prevention workouts
Exercises to build your technique, strength, and speed
TRE Half Marathon Running Program
Our half marathon program is a race-specific plan to get you focused on the things that matter–getting to the starting line of your race prepared to run your best half marathon ever over the course of eight weeks.
We recommend the 30 Day Challenge before you start this program, but it's not required. This program includes:
Eight weeks of race-specific training for a half marathon
Daily videos and coaching
Injury prevention guidelines
The option to complete an advanced plan with more mileage and intensity
TRE Marathon Running Program
Choosing to run a marathon is a big commitment that required time, dedication and patience. We are here to help you get ready with four months of marathon race-specific training.
Our marathon program will build your speed, strength, and endurance, so you can go the distance and arrive at the starting line feeling healthy and confident! This program includes:
16 weeks of marathon race-specific training
Daily videos and coaching
Injury prevention guidelines
The option to complete an advanced plan with more mileage and intensity
TRE Weekly Running Tuneup
Our TRE Weekly Running Tuneup includes three additional workouts every week to help get you faster, stronger, and healthier. These short, 10-minute workouts supplement your training runs to mobilize and take care of your joints and muscles and improve your speed and running technique workouts.
These workouts don't take long, but they are more important than 90 percent of the mileage you put in on a regular basis. The weekly tuneup includes:
Weekly strength and mobility workouts and tips–which are updated weekly.
Tips on form, racing, hydration, and fueling–we bring in experts for the best advice!
Strength videos that really translate–we believe in strength work doesn't have to take up a ton of time and it directly translates into better running.
Mobility and self-treatment tips–get out of that injury rut! We'll dig into specific areas that are problems spots for most runners.
Answers to your questions–we are online every day with Our athletes, answering questions and coaching you to a stronger, better running experience!
Community support forum–We have a huge group of runners who interact online (and offline) and share race results, photos, offer support, and more!
Video answers–we post custom videos exclusively to this group to answer your questions and give you extra guidance, which was previously only available to our private clients!
Find the Best Running Program for You
Ready to get started with the best running program that will take you to the next level? Sign up for a free seven-day trial to ANY of our training plans to test it out before you make a commitment. Finally, be sure to download our new, improved mobile app for access to new workouts each week and tons of training videos and resources!